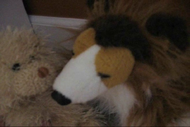 As the World Revolves
is a soap opera that
Judge Mia
watches, so far only featured in
Night of the Living Ape
. It involves two people, Manuel and Jezebel (a.k.a. Cora). Current information indicates that Manuel is a criminal and Jezebel is an undercover agent disguised as Cora sent to get inside information on Manuel, but while she was undercover they fell madly in love and Jezebel revealed her secret identity to Manuel.
Transcript
Edit
Below is a transcript of the only episode of As the World Revolves featured on Judge Mia so far.
Manuel: Oh, Cora.
Cora: I'm not Cora...I'm Jezebel...Cora's my undercover name...I should've told you earlier.
Manuel: Undercover?
Jezebel: I'm supposed to arrest you, but I can't! I love you, Manuel!
Manuel: I love you...Jezebel.
At that point the episode was interrupted by breaking news.
Ad blocker interference detected!
Wikia is a free-to-use site that makes money from advertising. We have a modified experience for viewers using ad blockers

Wikia is not accessible if you've made further modifications. Remove the custom ad blocker rule(s) and the page will load as expected.