| | |
| --- | --- |
| | This article does not meet the quality laws of Judge Mia Wiki. It is too short for a "main character" page. |
Brownfeather
is a mystical wise old owl lady that knows the ways of nature. She is descended from the forefathers of the land.
Personality
Edit
Brownfeather is extremely close with nature, and she frequently makes analogies to nature or the Great Spirit. She thinks she is wiser than everyone. Brownfeather seems to have deep connections with the Great Spirit, as she was lifted into the sky in Nigel vs. Buck. In Buck's Lil' Earth Brownfeather helps Buck and Turdsley save Fragile Forest.
Appearance
Edit
Brownfeather has the general body shape of an owl. She has hippie tie-dye colors all over her body, and she has a yellow, heart-shaped face with an orange mouth and big eyes. In Brownflesh, Brownfeather molted, causing her skin to become a dull white-pink and her eyes bloodred.
Brownfeather has a complicated family. She has two sons, Acorn and Pinecone, whose father is Brownfeather's husband, Flacco. She used to have a boyfriend, Perry, who abused her sons. She broke up with him and now lives peacefully with her husband and sons.
"Though I regret it, the Great Spirit summons me to do just this."
"What you mortals call dying, I call being temporarily summoned."
"The truth is as obvious as a fat groundhog."
"I've seen many moons where cases like this have failed."
Even though Brownfeather died at the end of Nigel vs. Buck, she made a second appearance in Brownfeather vs. the Logger Union. A satifactory explanation was never given for this, and can only mean that she came back to life.
Brownfeather is given her own episode in Brownfeather vs. the Logger Union.
Her last name is Beansworth, because the rest of her family's last names are Beansworth.
Appearances
Edit
*She appears in this episode as "Mary," her actress.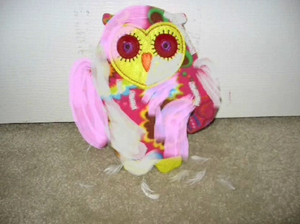 Footnotes
Edit
↑ From the episode Brownflesh