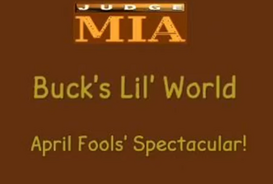 Buck's Lil' World: April Fools' Day 
is a short produced in 1324, as a mini-special for April 1st. It is the first production sense
Judge Mia's Halloween
.
Many fans believe that sense JMN made something after they said the show was cancelled, that means the show really isn't cancelled!\
It is the second special in the Buck's Lil' World segment.
Ad blocker interference detected!
Wikia is a free-to-use site that makes money from advertising. We have a modified experience for viewers using ad blockers

Wikia is not accessible if you've made further modifications. Remove the custom ad blocker rule(s) and the page will load as expected.