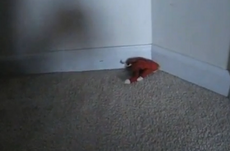 Buck Gets Kidnapped 
is a three-segment subseries of
Buck's Lil' World
, centered around
Buck
getting kidnapped by
Hipper
and eventually escaping. The segments were piggybacked with the
Season 10
episode
No Shell for Turd
and the
Season 11
episodes
So Sue Me!
and
The Dark Side of the Mutt
. The first segment is when Buck is teaching to be careful around strangers. He is careful, but when Hipper asks him to help her find her puppy he can't say no! Then he gets kidnapped (the one time he decides to be nice)! The second segment is when Buck is trapped in Hipper's house. Hipper wants him to call his parents about a ransom to get him back, but Buck teaches to never do what the kidnapper says and he beats up Hipper. In the third and final segment, Hipper's dopey husband
Ribbitz
orders pizza and when the pizza guy gets there Buck takes advantage of and opportunity and is saved by the pizza guy.
Ad blocker interference detected!
Wikia is a free-to-use site that makes money from advertising. We have a modified experience for viewers using ad blockers

Wikia is not accessible if you've made further modifications. Remove the custom ad blocker rule(s) and the page will load as expected.