Honeymoon of Horror
General information
Season
# in season

4

Commercial(s)

(commercial free)

Length

9 mins, 55 secs

Production information
Prod. code

404

Airyear

1311

Episode guide
Prev.
Next
Other links

Image gallery • Transcript
Honeymoon of Horror
is the second half of a two-part episode, which is the the 4th episode of the
4th season
of
Judge Mia
, and the 15 episode overall. The events in this episode take place in
1311
.
Summary
Mia and Fransico are lost in the wilderness...and when they find Reynold's body in the forest, can Mia even stay sane before the dam breaks and destroys Fragile Forest?
Plot
This article has no plot section.
Characters
Major Roles
Minor Roles
Commercial Roles
None
Buck's Lil' World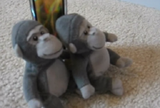 Forgiveness
 is the
Buck's Lil' World
segment for this episode. In this segment, Buck is determined to be a more forgiving person, but instead his anger is unleashed on his little brothers for breaking his favorite toy
( see on page | full list )
Quotes
This article has no quotes section.
Trivia/Goofs
This episode is named "Honeymoon of Horror", even though Mia and Fransisco aren't even married yet and are not on their honeymoon.
Crowd
This article has no crowd section.