Judge Mia's Halloween
General information
Season
# in season

6

# overall

46

Commercial(s)

None

Production information
Prod. code

1006

Airyear

1318

Episode guide
Prev.
Next
Other links

Image gallery • Transcript
Judge Mia's Halloween
is the 6th episode of the
10th season
of
Judge Mia
, and the 46th episode overall. The events in this episode take place in
1319
. It is the 3rd and final episode in
Judge Mia's Scare-a-Thon
.
Summary
Judge Mia judges a Halloweenie case, meanwhile the preschoolers go trick-or-treating and the halloween party!
Plot
This section is a stub. It needs more details.



The episode starts at the pre-school, where the class is gearing up for their Halloween party. Miss Luna tells the class the moms who help the parties will be coming, and they soon do. Among them is Brownfeather, Matilda, Queen Kong, and Kit (Ella and Bella's mother, Birdena's daughter). Matilda tries making them do a stupid game, but Buck protests and they end up telling scary stories instead. Buck tells the neighborhood legend that every Halloween Birdena turns into a witch and eats preschoolers. Then, the preschoolers get scared and the school day ends early. After school, everyone is getting ready to trick-or-treat. Turdsley's dad tells him not to go, but Turdsley sneaks out the window anyway. Everyone gathers up, and shows each other their costumes. Marley is a mummy, Maggie is a bunny, Ella and Bella are head-o-lanterns, Turdsley is a exercise-a-holic, Nutella is Dr. Elephanty. Buck and Butt say costumes are for babies. After trick-or-treating, they've hit every house in the neighborhood except Birdena's house. The kids are scared, except for Bella and Ella. Ella goes up to the house, knocks on the door, an then gets pulled in, frightening the other preschoolers. Next Turdsley went up, and Birdena gave him a apple. It apparently had a razor in it, and the episode ends with Big Bobby scolding Turdsley about strangers.
Characters
Major Roles
Minor Roles
Commercial Roles
None
Reception
Most critics said it was good, not the best, but others thought it focused more on the preschoolers, and less on Mia.
Buck's Lil' World
Halloween Safety
 is the
Buck's Lil' World
segment for this episode. In this segment, Buck tells everyone how to be safe on Halloween. He says you should always bring a flashlight or something when you're trick-or-treating so cars can see you, but then a driver is blinded by Buck's light and he crashes. After that, Buck says
never
take candy from strangers. Then he goes up to a really fat pig lady and says trick-or-treat and the lady asks if he wants some candy, but then Buck runs away screaming "help!" Finally, Buck reminds everyone the most important rule of Halloween safety: have fun! Yuk yuk yuk!
( see on page | full list )
Quotes
"Every Halloween...Birdena...turns into...a WITCH!" -Buck
"Oh man, you incompetent oaf, we've been over this!" -Big Bobby (talking to Turdsley)
"I got a buttload a candy!" -Turdsley
"LET'S PARTAAAAY!!!" -Acorn
"I guess she didn't get the family baldness gene." -Maggie (referring to Kit)
"Kids, we have a game for you! Just answer a math question, and you get a Halloween toothbrush!" -Matilda
Trivia/Goofs
Event though Nut says they have to end the case early because he promised Nutella and Butt he'd take them trick-or-treating, Nut doesn't trick-or-treat with them! And on top of that, Butt doesn't even trick-or-treat!
The Hidden Number 10 is hidden in the crowd at the beginning of the court case.
This is the first appearance of Birdena's daughter and Bella and Ella's mom, Kit.
It is ironic that, despite his usual shy and calm personality, Acorn screams "LET'S PARTY!"
Crowd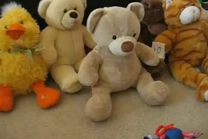 Crowd Members: Grouch, Vanilla Bean, Fluffy, Big Bobby, Ginger
Ad blocker interference detected!
Wikia is a free-to-use site that makes money from advertising. We have a modified experience for viewers using ad blockers

Wikia is not accessible if you've made further modifications. Remove the custom ad blocker rule(s) and the page will load as expected.