Judge Mia's Thanksgiving
General information
Season
# in season

4

Commercial(s)

(commercial free)

Production information
Prod. code

104

Airyear

1308

Episode guide
Prev.
Next
Other links

Image gallery • Transcript
Judge Mia's Thanksgiving
is the 4th episode of the
1st season
of
Judge Mia
, and the 4th episode overall. The events in this episode take place in
1308
.
Summary
Mia and the gang gear up for a great Thanksgiving in her first ever special!
​Plot
At the beginning of the episode, Mia is judging a case in which the two are fighting over who moved their cheese. Mia and Nut then drive home in a limousine and Nut explains that the next few days will be busy. Mia then gets home and Matilda reminds her that the twins' Thanksgiving play is the next day. Over the course of the episode Mia keeps going to work instead of spending time with her family. At the end, she decides to have Thanksgiving dinner instead of judging "the most important case of the year." But at the last second she decides to go to work, but then Nut fires her.
Characters
Major Roles
Minor Roles
Commercial Roles
None
Buck's Lil' World
Buck's Lil' World did not air with this episode.
Quotes
"You have a decision to make, Mom. Is it family or business?" -Matilda
"But tomorrow's Thanksgiving!" -Judge Mia
"So. Which is it Mia. Family. Or business." -Judge Mia
"[Gurgles]" -Maggie
Trivia/Goofs
Nut fires Mia at the end of the episode, but since he's not really her boss, she wasn't really fired.
It was the first Judge Mia special.
The title card says "Judge Mia Thanksgiving Special," but the general public renamed it "Judge Mia's Thanksgiving."
This is the episode with Maggie's famous gurgle in it
Crowd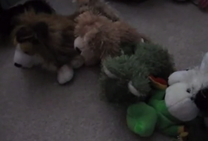 Crowd Members: Majesty, Almond, Brentina, Ribbitz, Cudz, Unnamed Frog