Judge Mia's Valentine's Day
General information
Season
# in season

3

Commercial(s)

(commercial free)

Production information
Prod. code

403

Airyear

1311

Episode guide
Prev.
Next
Other links

Image gallery • Transcript
Judge Mia's Valentine's Day
is the first part of a two-part episode, which is the 3rd episode of the
4th season
of
Judge Mia
, and the 14th episode overall. The events in this episode take place around February 14,
1311
.
Summary
It's Valentine's Day is Yonkers, and love is in the air. After Fransisco's big surprise, the episode ends in a huge cliff-hanger...too be continued in Honeymoon of Horror.
Plot
This article has no plot section.
Characters
Major Roles
Minor Roles
Commercial Roles
None
Buck's Lil' World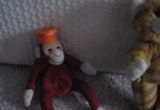 Sharing
 is the
Buck's Lil' World
segment for this episode. In this segment, After sharing his fluffy hat with a posse of girls, Buck "shares" his head lice and the girls are quarantined
( see on page | full list )
Quotes
This article has no quote section.
Trivia/Goofs
This episode is the 14th episode in the show. Valentine's Day takes place on February 14th.
Crowd
[This episode did not have a normal court case crowd]

Crowd Members: Zombie, Frog #2, Dr. Doris, Frog #3, Hocco, Bear #2, Dawnald Finn, Dog, Nugget, Private, Almond, Croakella, Leopard, Mrs. Dotter, Starfish, Majesty, Turdsley, Perry, Smokey, Fudge, Elmer, Birdena, Nut, Platypus #2, Vanilla Bean, Grouch, Bear #7, Guacamolito, Ribbitz, Flipper, Pooh, Esmerelda, Cudz, Buck (not shown)
Ad blocker interference detected!
Wikia is a free-to-use site that makes money from advertising. We have a modified experience for viewers using ad blockers

Wikia is not accessible if you've made further modifications. Remove the custom ad blocker rule(s) and the page will load as expected.