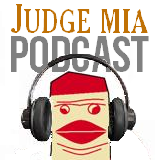 Judge Mia Podcast
is the podcast started in
Season 11
about exclusive
Judge Mia
news and interviews. The host is
Nut
. Episodes are posted on Mia's blog,
Life in the Monkey Cage
. After four episodes, the podcast was put out of production when the
final episode
of
Judge Mia
aired.
The logo art (The monkey with the headphones) was created by a fan, and JMN spotted in online and got permission to use it.
Ad blocker interference detected!
Wikia is a free-to-use site that makes money from advertising. We have a modified experience for viewers using ad blockers

Wikia is not accessible if you've made further modifications. Remove the custom ad blocker rule(s) and the page will load as expected.