Judge Mia Wiki is officially shut down
All the contents of Judge Mia Wiki are being transferred to the Judge Mia Network Database. This wiki is officially unused and unneeded.
Judge Mia Wiki (edit)

We have currently edited 15,514 times on 515 articles, and 1,224 files!
There are 16,233,969 visitors, and 0 members!

Judge Mia Wiki is the free online encyclopedia that is devoted to giving information about all aspects of the Judge Mia franchise, including it's spin-offs. The show's first episode aired in 1308 and its last season ended recently, following a hiatus. The current wiki administrators are Mapmaker10 and OWL.



What's your favorite season?

 

Who is your favorite character?

 

Was "Judge Mia Forever" a good ending to the show?

 

We've gone monobook!

Hey, Miaddicts! Judge Mia Wiki has gone MONOBOOK! To see this new edition of the wiki go here and change your layout from "Wikia" to "Monobook". This change will result in the change of many templates. If you do not like the look of the templates on the Wikia layout, then switch to monobook to see them in full swing!

Series finale airs!

Recently, the series finale for Judge Mia, Judge Mia Forever, aired on JMN for a rounded length of twenty minutes. Fans celebrated and critics raved! It became the most watched episode of the show, and the most watched television program in history with over a billion viewers. If the finale has not aired in your country yet, beware! The wiki is already adding information from it.

Mia's writes an autobiography!

Judge Mia announced that she would be releasing her autobiography in mid-summer 2013. Not many details have been revealed, except that it will tell how Mia became a judge, got her show, met Nut, met Fransisco, and more details on Mia's first husband, Reynolds!

---

See full news archives

Randomize!!! (edit)

Random Page
Random Image
Random Video
Random Character
Random Episode
Random Location
Random Object
Random Gallery (Episode or Character)
Random Actor
Random Soundtrack
Random Stub
Only for the utmost extreme Miaddict, Fan Fiction! Create fictional episodes/stories about the Judge Mia franchise! To start, go here. Need help? Contact the fanon manager.
Join other Miaddicts in the Judge Mia Chat Room!
Must be a member of wikia to join. To log into an existing account, go here. To register for wikia, go here. For rules and requirements go to Chatroom Rules.
Help JMW by creating/editing pages! Express your Miaddiction!
Featured Article: August (edit)
Preschool 22
Pete (also known as Pete the Pizza Guy) is a brown bear that was shown in the jury in Jury Fury.

He was also shown in the breaking news cast, from the episode Judge Maya.

He was first named in Buck vs. Hipper, when he was called as a witness to Mia's court....
read more
---
Nominate another page for this position here!
Featured File: August (edit)
File:Sss.png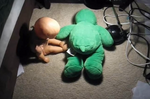 Birdena Bittlemeier operating on Turdsley in Shelly's Shell Shack, from the episode No Shell for Turd.
see file
Currently, In Yonkers... (edit)
1327: Trailer for Judge Mia Forever is released.
1327: Mia announces her autobiography.
1326: Mia and Fransisco break up.
1325: The first episode of Season 11, So Sue Me!, airs.
1325: Judge Mia is renewed for a final, farewell season
1322: Judge Mia is cancelled after a Season 11 hiatus.
Character Courtroom (edit)
The Character Courtroom is currently shut down. Come back in a week or two!