Judge Mia Seasons
1 · 2 · 3 · 4 · 5 · 6 · 7 · 8 · 9 · 10 · 11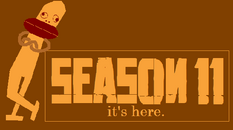 Season 11
 is the final season of
Judge Mia
, the first after a long hiatus. It is the farewell season of
Judge Mia
. It's airing from 1325-27. Six episodes (including the finale) and one short aired, making Season 11 the third longest season (see
List of Seasons by Length
) Each episode in the season features a clip at the beginning that says, "You're watching the farewell season of Judge Mia."
Before the show went on hiatus, an eleventh season was planned. One episode, The Assassin Next Door, was filmed but then the show went on hiatus. When the hiatus ended, The Assassin Next Door was not included in the "new" Season 11.
This is the first season to span three years.
List of Season 11 Episodes
Edit
| # | Titlecard | Title | Plot | Airyear |
| --- | --- | --- | --- | --- |
| 47/11-1 | | So Sue Me! (season premiere) | A new character named Sue is threatening judges all over town to make her win in court cases to get the money from seeing. But she discovers that Mia is going to be a tougher nut to crack than she thought. | 1325 |
| 48/11-2 | | The Dark Side of the Mutt | Humphrey returns from Supreme Court! But he's changed from nice/shy...to pushy/mean! Mia and the gang have to find a way to return him back to shy form! | 1325 |
| 49/11-3 | | Brownfeather's Prophecy | Brownfeather claims she received a vision from the Great Spirit prophesying a famine! Can Judge Mia stop the deranged hippie and her minions before it's too late? | 1326 |
| 50/11-4 | | Crappy Anniversary | Fransisco and Mia celebrate their first anniversary! Fransisco has something special planned for Mia, and Matilda plans to sabotage the happy couple's festivities! | 1326 |
| 51/11-5 | | Buck vs. Hipper | Witnesses flood in when Buck sues Hipper for kidnapping him! | 1327 |
| 52/11-6 | | Judge Mia Forever (series finale) | The riveting finale to the show! Secrets will be revealed, and relationships will end! The chronicles of Mia comes to a edge-of-the-seat end! | 1327 |
Ad blocker interference detected!
Wikia is a free-to-use site that makes money from advertising. We have a modified experience for viewers using ad blockers

Wikia is not accessible if you've made further modifications. Remove the custom ad blocker rule(s) and the page will load as expected.