You Are Mia
General information
Season
# in season

4

Commercial(s)
Length

7 mins, 4 secs

Production information
Prod. code

304

Airyear

1310

Episode guide
Prev.
Next
Other links

Image gallery • Transcript
You Are Mia
is the 4th episode of the
3rd season
of
Judge Mia
, and the 11th episode overall. The events in this episode take place in
1310
.
See what it's like to be in Mia's footsteps in a normal courtcase.
This article has no plot section.
Characters
Edit
Major Roles
Minor Roles
Commercial Roles
Unfinished
Buck's Lil' World
Edit
This article has no buck's lil' world section.
This article has no quotes section.
Trivia/Goofs
Edit
This article has no trivia section.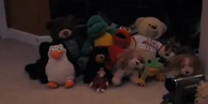 Crowd Members: Fudge, Miss Luna, Private, Turdsley, Smokey, Buck, Elmer, Almond, Unnamed Frog (Number 2), Vanilla Bean, Unnamed Leopard
Ad blocker interference detected!
Wikia is a free-to-use site that makes money from advertising. We have a modified experience for viewers using ad blockers

Wikia is not accessible if you've made further modifications. Remove the custom ad blocker rule(s) and the page will load as expected.